Creating real value in property and places...
Striving for perfection has been the hallmark of this company that has achieved many 'firsts' and 'bests' over the years. We are Kerala's first CRISIL-rated real estate developer with ISO 9001 certification and ISO 14001 Certification for Environmental Sustainability.  However, beyond the many accolades and awards received, we pride ourselves most for the enduring relationships we have been able to foster with over 4000 families. Our responsible and transparent practices have been the cornerstone of our business, and are what have earned us the steadfast trust and faith of our client base. And we continue to strive every day to provide our clients with all the best of modern urban living here in Kerala. Having completed 44 projects with a built-up area totaling over 4 million sq ft, ABAD builders continues to stand at the forefront of Cochin's real estate market, transforming Cochin's residential landscape to a promising future, one project at a time.
Since its first project in 1995, ABAD Builders has been one of Kerala's leading real estate developers, committed to delivering luxury properties that strike the perfect balance of being environmentally friendly, cosmopolitan, and comfortable while also being best for value forms of investment. With our two decades of experience, each of our projects are carefully built with the latest structural engineering technologies and incorporating amenities of modern urban living in strategically located in some of Kochi's most sought-after residential areas, thereby ensuring greater appreciation in real estate value.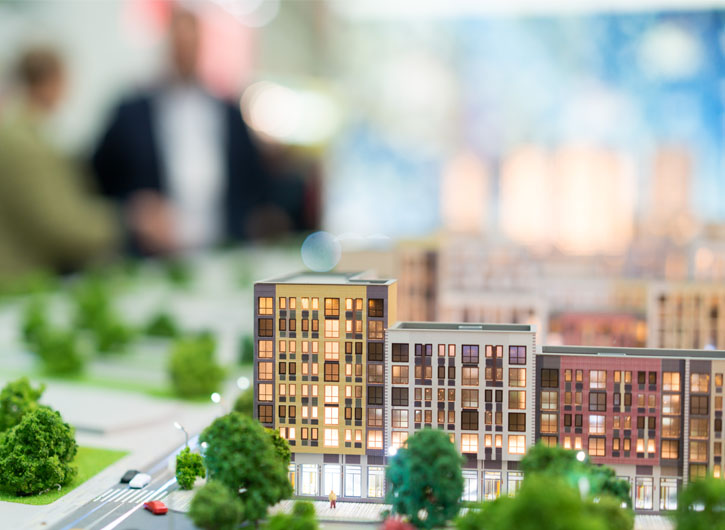 To establish lasting relationships with clients based on the foundations of trust, integrity and transparency.
We at ABAD Builders conduct our business with our unwavering commitment to customer care, quality and innovation. We strictly adhere to our quality objectives:
Timely Completion of Projects
Prompt After Sales Service
Minimal Time in Internal Reworks
Reasonable Pricing
Superior Amenities and Best Materials
Construction only at Easy-to-Access Locations in the City
Zero Customer Complaints
Over Two Decades of Experience
2003
Abad Builders Pvt. Ltd is set up, bringing with it the group's long-standing legacy of quality, trust and credibility.
2006
Abad Builders becomes the first CRISIL-rated builder in Kerala.
2008
Abad Property Management Services is established to provide professional housekeeping, maintenance and security services to the completed residential and commercial projects
2010
Nucleus Mall, at Maradu, Kochi, becomes India's first LEED-certified gold rated mall in the country.
2022
With over 44 projects delivered and 3,000-odd families standing testimony to the brand story, Abad Builders continues its journey of making happy homes.
We, at ABAD Builders, are committed to provide broad spectrum of construction solutions by adopting suitable technologies for ensuring qualitative work and timely delivery of projects, meeting and exceeding customer needs and expectations through continual improvements and contributing to the overall welfare of the society
ABAD Group believes that employee safety and health are as important, and that no job is so important or urgent at the cost of life. ABAD Builders Group is committed to:
Create safety awareness among all, at all levels.
Comply with the statutory regulations and standards.
Prevent ill health and injury through safe work practises.
Continually improve the OHS performance.
Provide safe and healthy working environment.
Report and investigate all accidents/ incidents.
Ensure strict compliance to rules and regulations pertaining to health, safety and environment.
We are committed to maintain our organisation remain environment friendly while achieving our business goals and contribute to sustainable development. ABAD Builders Group is committed to:
Minimise the consumption of natural resources through process improvements resulting in reducing, reusing and recycling.
Prevent pollution through reduced consumption, improved processes and use of environmental friendly materials.
Continually improve the environmental performance.
Comply with all relevant environmental legislations and regulatory requirements.
Contribute towards conservation of natural resources, using renewable sources of energy and water harvesting.
Create environmental awareness among all classes, through internal camps/training programmes.
Group Companies
With seven decades of experience ABAD group is engaged in a diversified range of business activities that encompasses, construction activities (ABAD builders), seafood processing (ABAD seafood division) and hospitality services (ABAD group of hotels)
from our blog.
News & Events
Our Awards
Awards & Recognition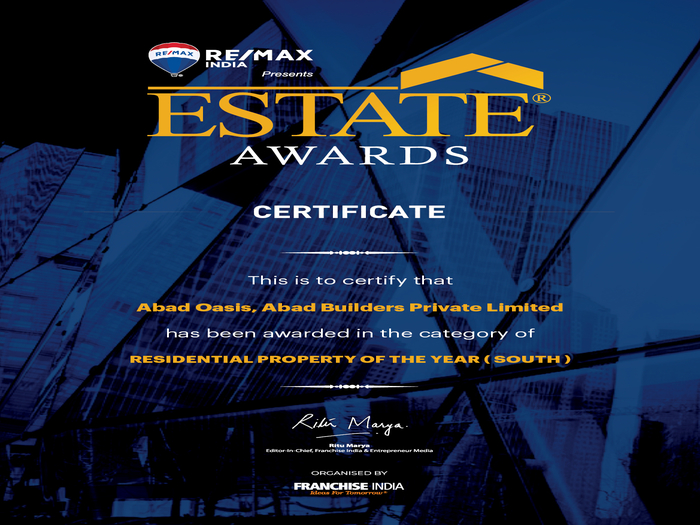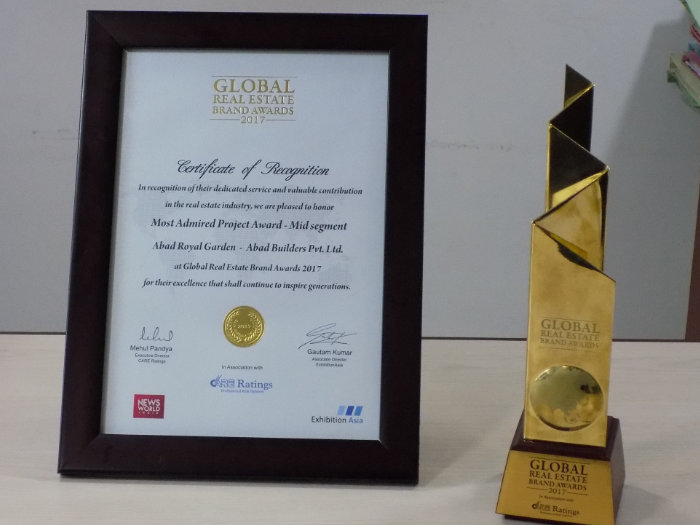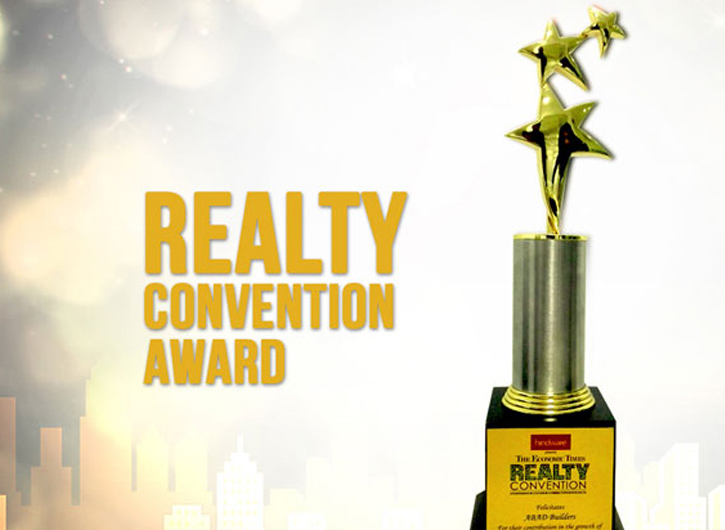 Award for ABAD OASIS
ABAD Oasis, a landmark residential project at Edappally has won the REMAX India 12th Annual Estate Awards in the category "Residential Property of the Year 2020(South)". The award was announced and distributed by Franchise India in a virtual function on 25th November.
Abad Royal Gardens wins the Global Real Estate Brand Awards 2017
Each urban area of Rehomes is built on the basis of "A place that living is in harmony with nature" with greeneries, parks, squares, water surfaces designed and arranged harmoniously.
Realty Plus Exellence Award 2012
ABAD Nucleus Mall & Offices, Maradu, Cochin, Kerala's first LEED Gold rated Green Mall, conceived and developed by ABAD Builders, has won the prestigious Realty Plus Excellence award 2012 for the category " Environment Friendly Project of the Year – Commercial", South India. Award function was held at The Matthan, Bangalore.
Apartments for sale in Kochi
Discover the best real estate building experience in Kochi with ABAD Builders, the leading builder known for creating top-notch homes and commercial spaces. With a commitment to quality, innovation, and customer satisfaction, we strive to deliver exceptional value to every client. Our team of experts bring together a wealth of experience and expertise to ensure that each project is executed to the highest standards. Choose ABAD Builders for a seamless building process, exceptional craftsmanship, and the finest finishes in the industry. As one of the most trusted builders in Ernakulam, we have a long history of delivering exceptional apartments and flats that meet the needs and demands of our customers.
Whether you're looking for apartments for sale in Kochi or searching for new Luxury flats in kochi, Abad Builders has a range of options that cater to your needs and budget. Our properties are thoughtfully designed and expertly crafted to provide you with the ultimate living experience. With a focus on quality and customer satisfaction, we take pride in our ability to deliver exceptional homes that exceed expectations. Whether you're a first-time home buyer or a seasoned real estate investor, we're here to help you find the perfect property. So why wait? Contact Abad Builders today to discover the perfect flats in Kochi for sale and start living the life you deserve!
Luxury Apartments in Kochi
With ABAD Builders, experience the pinnacle of luxury living in Kochi. We are committed to giving our clients the finest flats in the city as one of the best builders in Kochi. Our luxury apartments in Kochi offer the ultimate in contemporary living, embodying style, comfort, and sophistication. Our luxurious apartments have been thoughtfully designed with your comfort in mind, featuring spacious layouts, luxurious finishes, and the most recent in-home automation technology. Our apartments are situated in some of Kochi's best and most desirable locations, providing quick and simple access to the city's top cafeterias, stores, and attractions.
            At Abad Builders, we understand that choosing a new home is one of the most important decisions you will make. That's why we are committed to delivering the best apartments in Kochi, with a focus on quality, innovation, and customer satisfaction. Our team of experts brings together a wealth of experience and expertise to ensure that each project is executed to the highest standards. Our apartments are designed with your comfort and convenience in mind, featuring spacious layouts, high-end finishes, and the latest in home automation technology. Whether you are looking for a one-bedroom apartment or a multi-bedroom space, we have a range of options to meet your specific needs.
            So why settle for anything less than the best? Choose Abad Builders for best flats in Kochi and discover why we are the top builder in the city. Our apartments offer a refined lifestyle, set in some of the most coveted locations in Kochi. Contact us today to schedule a viewing and discover why we are the best builders in the city.