WHAT WE BUILD.
Featured projects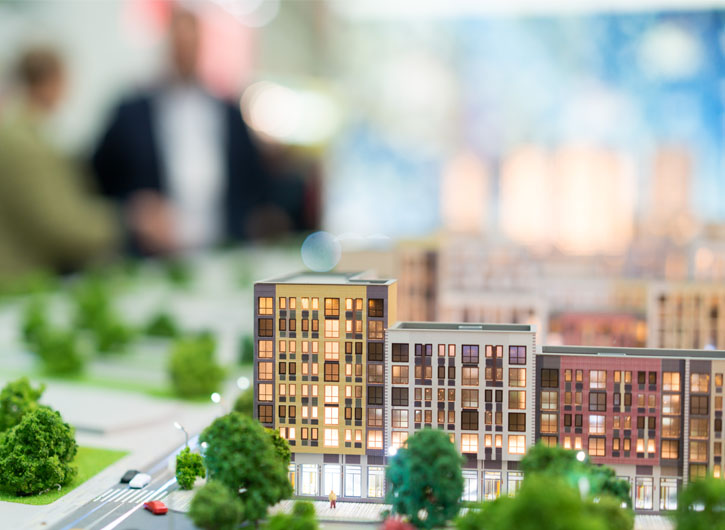 Established in 1995, as part of the ABAD Group which has interests in seafood export, hospitality, retail and more, ABAD Builders has always been synonymous with the values of transparency and integrity. At ABAD, we believe in working towards excellence every single day, which is why we strive to set the benchmark in every sector we are in. We became Kerala's first CRISIL-rated builder in 2006 and built Kerala's first LEED-Certified Gold Rated Green Mall—ABAD Nucleus Mall, Maradu—in 2010. Having delivered over 44 projects and put smiles on the faces of over 3,000 families, we continue to focus on creating homes that enable you to live your best life.
Why choose us.
We prioritise your trust in us
Living in an ABAD home is living among people with a strong sense of bonding and community-building
Professional & prompt service
Our team takes pride in putting the customer first, hand-holding them right from the first call to the after-sales service.
We ensure that we match our state-of-the-art design with the best quality products.
Green and clean Environment
Each urban area of Rehomes is built on the basis of "A place that living is in harmony"
Amenities for better living
Every one of our projects is packed with amenities focused on allowing you to live your best life.
Complete safety & security
Our projects come with modern, built-in security checks and systems for all common areas.
Services
For most clients, especially NRIs, overseeing the designing and creation of a building project that matches specific quality and fiscal parameters is a difficult task.
Awards & Recognition.
Merits we have earned
SQFT of premium living spaces
Completed & handed over projects
from our blog.
News & Events
testimonials.
Our biggest award is develop
thriving communities
"The basis for buying a new home lies in the reputation of the builder, and the locality. I trusted the work of Abad Builders to be punctual and of good quality, and they proved that I trusted correctly. Knightsbridge attracted me the most as Kadavanthara is a residential area and it is an ideal location for a family, with all the amenities close at hand. What drove me to make a choice with Abad was its exceptional customer service facilities that allowed an easy transaction, from miles away. We feel at home here. We were at Hong Kong when we purchased this flat, and the team helped us a lot. I was away while they managed the entire payment and everything else. I came only once in the four year time span, while everything was handled by them. The whole process was very convenient and friendly; they never made us feel like we were away from home".
"Frankly speaking, I feel very free to talk to the Abad team about all my needs and concerns.We have combined two 2 bedroom flats and made it into a 3 bedroom flat along with a studio, something most of the builders don't allow, but Abad took care of my request with utmost professionalism and perfection. Abad has made a name of it's own, a management which is known for its excellence. Abad is a group of trusted builders, and its project Ikebana has a beautiful view with great facilities - it's like adding icing to a cake. For me it is very important that I have a good rapport with any person I deal with, and on that front, Abad is extremely customer friendly. They genuinely looked into, and took care of all my requirements. The journey I've had with Abad is really good feels".
"It has been a great experience for me. The very reason we chose Abad Springfield is because, we already own an Abad waterfront property at Aluva. Their commitment to delivering the property and the speed of completion is one of the best in the industry. Also, Abad has a great reputation. I am proud to be an owner of Abad properties."
"We had an absolutely delightful experience with Abad Builders since day one of booking our apartment at Golden Oak, Maradu. We would like to mention special thanks to Mr. Vysakh from the sales team for assisting us during every step of our association. Right from booking the apartment to the key handing over ceremony, everything was handled efficiently by the team. We are happy to have made the right by choosing Abad."
"Thank you so much for the Handover of apartment 13 EF as you promised on June 29, 2020 and appreciated your team work for the amount of effort that was put into the job to complete during this ongoing epidemic situation . I really enjoyed the support from your engineering and execution team during the construction work. Your professional expertise in work and valuable guidance much helped me to accomplish my apartment design requirements. Thank you so much for achieving completion successfully and special thanks to the construction team for the safe work and good safety records during construction ."
"ABAD is one of the best builders in the industry. Since it is a big investment for me, I had to go with a reputed builder and I found ABAD to be one of the most reputed and trustworthy builders in Kerala. The unique thing about ABAD Golden Oak is its standalone club house. The health club here is well-equipped. It also has a recreation hall where one can hold parties for up to 100 people without disturbing the residents in the apartments."
"I feel that a quintessential home is neat, organised and conveniently located for maximum accessibility of services. I prefer a location that is close to my mother's home and I got all of this with Abad Knightsbridge - top quality, neat, organised and convenient location. I need places like the supermarket and everything close by. I am satisfied with Knightsbridge and consider it ideal, because of the trustworthy work of Abad. My decision was also based on the experiences I had with the Abad Resorts around the state. We've been here in Kochi, so we've known Abad for a very long time".
"You can tell a good and distinguished developer by the number of returning customers it has. That's my index for judging a developer. If we take this measurement then, ABAD is a really strong developer as they have many returning customers. Take this property, Orchard County, many of the customers here also had ABAD properties before and have decided to upgrade. The family across the street from our property, he owns a flat in ABAD Daffodil Gardens. It's the people here, they listen to us. They take care of us. There is a trust and relationship that has been built. And that's why we have returned again to invest in ABAD properties as well."
"Our apartment in Abad Oasis, Edapally, was handed over to us on 15th June, 2020. We are impressed and completely satisfied with the professionalism, quality of work, and amazing service provided by the staff at Abad Builders throughout the process. The engineering team was very cooperative in accommodating the modifications we suggested in the interior and electrical layouts as well as in the customization of the apartment. Materials used are of top-notch quality. There was transparency in all aspects which led to getting our loan approved without any delay. Hence, we feel confident about the credibility and legal compliance with respect to the property."
"Brilliant. Wonderful. Outstanding. I am out of adjectives! I must tell you, the entire team is just fabulous. My experience with Abad has been awesome. Talk to anyone about Abad, and you will know that they have a good reputation. I went for Knightsbridge for its prime location. Another fantastic thing is that the construction quality is good, the quality of work is good and what makes it better is that they delivered it even before the promised time."
"We have taken a 3BHK apartment in ABAD Golden Oak. We have been related with ABAD for many years and they have been so supportive all these years, with each investment of ours. So we want to have a very long-term relationship with them again because as they say with all the new projects they want the previous customers to invest again and we also hope we can do the same thing because of their supportive and co-operative attitude. They provide everything in almost all their luxurious apartments like the swimming pool, the gym,the recreation hall; so we have everything in our apartment itself and we don't have to go for anything outside."
"While looking for our apartment in Kochi, the priorities were to be from a trusted builder and the location. In Abad's Oasis we got both. Abad's team was friendly, responsive, and willing to help. We are happy and thank you Abad!"
"The convenient location of the apartment, quality construction, timely status updates during the construction phase, and prompt after-sales response all make Abad Builders and Oasis apartment an excellent choice."
"While thinking of owning an apartment, the major thoughts that come to our mind are the location, the builder's credibility and quality of the building. I found ABAD Oasis, Unichira, Edappally, is conveniently located and from a reputed builder. The Abad team was well co-ordinated and was very friendly throughout the period and addressed all our queries and requirements."
"It was a great pleasure to associate with Abad Interior Design team. All of them showed active interest in our suggestions and did a wonderful job within budget and on time. Above all, despite our not being there, they ensured good quality of work and execution. They were receptive to our ideas. A job very well done. What is more, they are always available for any follow-up after completion. Thank you all!"
"ABAD!! A brand itself and every time, you prove your worth. As a North Indian, when we decided to settle in Kochi, we visited many properties but couldn't find our dream flat but then we decided to visit the recently completed Abad property and there our search ended. The efforts taken by Abad team in making the layout, the design, the quality of workmanship, the thought process gone into making Reflections was clearly evident. The team is always approachable and proactive in resolving all requests put across to them. Thanks team Abad for making our dream come true!!!"
"Abad Reflections is a beautiful apartment that's truly a design marvel and has many firsts in Cochin. Dr Najeeb is truly an inspiring person from the little that I have known him. He has an excellent team led by Mr Mujeeb, and they are very professional and committed. My experience in dealing with Abad Builders has been awesome and I truly felt at home from the moment I met them. They are trustworthy and no wonder they are the most reputed builder in town. The Abad Property Management Service is a standout feature and that was also one of the most important reasons for me to buy this apartment. I must mention that every process right from sales and documentation to after-sales service has been excellent. Thank you Team Abad, and wishing you all success in your future projects."
"Abad Reflections is one of the most spacious properties we have ever seen. We are happy to find our home in Abad Reflections. The team was very prompt and passionate in understanding our needs and made the process so easy. Proper communication was maintained from start to finish. We are extremely satisfied with the service."
"Very good experience with the Abad team. Abad was not in our list when we planned to move to Kochi from Mumbai until we visit the ready flats of Reflections in January 22.That was end of our search for a 'home'. We are about to move in this December after finishing the interior work. Everyone in Abad group that we met during this period--sales, office or maintenance--are so cooperative. They always give priority to their customers' tastes and needs. Abad staff's collective effort and cooperation helped us build our dream home away from home."
"Partnering with Abad Builders was such a wonderful experience. We are so pleased with our beautiful home and the excellence with which it was designed. It is elegant, Comfortable and functional. We think it's 'just right'. We were impressed with the professionalism which exceeded our expectations. The team were considerate, perceptive and patient with excellent communication skills. From our initial inquiry to the final reveal, they made the entire project process so easy. Easy, fast and spot-on design inspiration with the coordination that matches talent and professionalism!!! Thank you so much for helping us to create such a beautiful home. We could never have done it without the exceptional Abad Team. Our home is everything we hoped for and much, much more thanks to Abad Builders"
Group Companies
With seven decades of experience ABAD group is engaged in a diversified range of business activities that encompasses, construction activities (ABAD builders), seafood processing (ABAD seafood division) and hospitality services (ABAD group of hotels)
QUICK ENQUIRY.
Want more
information?
ABAD Builders is one of the leading builders in Kochi and is renowned for our exceptional craftsmanship and dedication to producing top-notch luxury apartments and flats. Our reputation in the industry speaks volumes about the quality of our work, and our projects are sought after by many looking to buy flats in Kochi.
Ernakulam is a bustling city in Kerala, and its real estate industry is thriving. There are plenty of builders in Ernakulam because there is a rising demand for residential properties. The right builder must be selected for your needs because not all builders are created equal. One name that stands out among the best builders in Kochi is ABAD Builders. We are a reputable construction company with a track record of providing high-quality and luxury flats in Kochi. Our work is a testament to our dedication to excellence, and we pay close attention to every last detail.
We are renowned for our outstanding customer service in addition to our dedication to quality. Abad Builders have been delivering luxury apartments in Kochi for several years, and each project we take on demonstrates our proficiency in the building sector. We aim to create living spaces that are not only practical but also aesthetically pleasing because we recognize that a house is more than just a roof over your head. Our work is a reflection of our commitment to excellence, and everything from the materials we use to the layout of the apartments demonstrates our meticulous attention to detail. Abad Builders is known for our exceptional ability to design spaces that reflect the personality and lifestyle of our residents. Consider Abad Builders if you are looking to buy a flat in Maradu. We provide splendid, opulent apartments that meet residents & needs and are made to last. For all of your construction needs, put your trust in Abad Builders because we are dedicated to quality and excellence. Choose them to create a house that is a reflection of your lifestyle and personality.