Home DIY projects help to personalise your space. They reflect your style, personality and sense of creativity, and give your home character and charm. DIY projects are also a useful method to save money and repurpose discarded and old goods. Here are three simple DIY project ideas and designs for your home that you could find useful.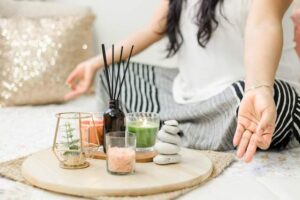 A Space for Your Peace of Mind 
Create a meditation nook in your home. One of the first stages in creating an environment that is genuinely warm, soothing, and inviting for meditation is by choosing the colours for your space. Avoid using bright colours, fluorescent lighting or stark white lights when designing an area of your home that you consider to be your getaway.
Look for aromatherapy scents to help you relax even more; this is best done for a long or guided meditation. Lighting up a scented candle or incense stick can bring a lot of positive changes to the environment that surrounds you.
When decorating your own meditation space, consider using tapestries, carpets and cushions to create a cosy welcoming ambience. Adding indoor plants can also improve the air quality in the space.
Read Like a Monk
Put up a reading corner in your home. Three essential components make up a great reading area: excellent lighting, sufficient book storage, and coziness. Having a window that allows the dispersion of sunlight into the space helps create a good reading environment. Alternatively, you can set up warm lights if you cannot find a space with sufficient natural lighting.
The most important part about creating a reading corner is setting up shelves that contain your favourite books. You can upcycle an old crate or make yourself a brand new bookshelf if you are ready to take up challenges. Make sure to clear the clutter and add some indoor plants to make the process more enjoyable and lively.
Put up comfortable furnishing and accompaniments like pillows and rugs for an immersive experience. Caution: keep it low-key so that it does not become distracting.
Put on Your Favourite Crafty Pants
Create a craft corner in your home. Figure out what kinds of crafts you are into and what tools you need so that you have them at hand while doing a project. Make sure you have a space that hosts all your crafting needs so that you don't have to carry supplies between rooms. If you have a large workspace, adding counters can be a lovely improvement.
An addition of a bulletin board onto the empty wall where you can pin up to-do lists, photos, quotes, bills, and a variety of other items would be convenient. Good lighting is important for boosting your productivity; set up your workshop in an area where there is a lot of natural lighting available; or you can put up bright lamps around your space.
No matter what type of DIY project you choose, builders in Kochi can help you bring your vision to life. Whether you're looking to renovate an existing space or create a new one, they have the skills and expertise to help you transform your home into a place you love. And if you're in the market for a new home, there are plenty of flats in Kochi to choose from that offer the perfect canvas for your DIY projects.